Hi,
I have prepared a family table as in attachment. They differ mostly by diameter and wall thickness.
Is there any possiblity to make an extra table in the drawing which will show only one row from this table?
Let say i write in the table DA616 and it shows me all other data in this one specific row?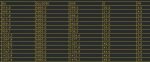 Does anyone have any idea?
Thank you,
Robert