Hi,
When unfolding or folding a part, I run into the problem that the knockouts don't follow...
Right now, I made the knockout on the flat pattern and it looks like that :

Which is perfectly fine.
But then, when I tried to fold back the part, it does that :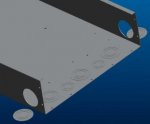 Is there any way for the knockout to follow the fold?
Thanks,
Sifu