Hi all ,
When i open an assembly , it cant retrieve componets (istances) from my library (missing componets) . I must do it manualy .
Attached model tree,

,search.pro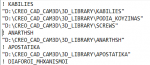 & library abstract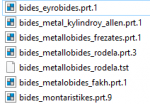 The missing componets located at d:\creo_cad_cam3d\3d\library\screws , and they are instances from ''bides_montaristikes.prt.9". The componets above missing componets (KABILES_M8x30) , located at D:\creo_cad_cam3d\3d_library\kabilies
Any ideas for this?
Thanks a lot